About Us
We set out to take the world on a journey and prove that success, happiness and possibility have no age limit. We believe you can live your best life at 55 and beyond and aim to inspire and support you in whichever way you need. We work with a curated panel of partners who also believe in removing age as a barrier to ambition, so with us you only talk to people who will celebrate your aims, understand your needs and help address your challenges.
Joining us is free and allows you to access a wide range of benefits aligned to our beliefs:
We believe in long-life learning. We provide tools for on-going personal development to support you in achieving new career opportunities, workplace confidence and general wellbeing through:
FREE online training courses addressing many key workplace challenges
FREE psychometric test to enable greater personal understanding for development
FREE article content to aid personal development
We believe in long-life careers. From flexible jobs to brand new starts, setting up your own business venture to corporate employment we cover it all.
Job board tailored to over 55's working with employers to explicitly hire 55+ and remove ageism from recruitment
Age-aware Accreditation for Employers to remove ageism in their organisation
Expert advice Q&A's from leading career coach and business expert
We believe in setting long-life financial ambitions. We are supported by experts who give the right advice aligned to your specific goals.
FREE 'mid-life' financial MOT with a SOLLA accredited expert
Expert advice articles on financial planning including tax savvy tips, pension income and more
Insurance experts who ensure the right protection is in place for your home, family, pets and special items with bespoke solutions
We believe in sharing inspiring stories to power your ambitions
Sharing stories of those who have gone on a transformational journey in an aspect of their lives from fitness to career to arts at 55+
Travel ideas and deals from our holiday partner Mr & Mrs Smith
Second home advice – home or abroad supported with legal and finance expert articles
Lifestyle inspiration from cars to interiors to fashion
"We aim to be the most-trusted authority and the go-to source for over-55s"
55/Redefined is the UK's champion for the over-55s. We're a disruptor. We're here to challenge the status quo. We reject the idea that the most dynamic part of life is before 55. We advocate for age diversity, positivity and inclusion across all areas of life.
As a population, we're living longer than ever and currently have an outdated approach towards ageing and life after 55 that no longer serves us. The concept of a pension and retirement was coined in post-war times in the 1940s. This means we are still living with a mindset that has been around for more than half a century.
It's our mission here at 55/Redefined to embody a movement and champion change at a societal and policy level. We powerfully reject the common stereotypes and prejudices that create barriers to what one can achieve over 50. Whilst people accept getting older means getting wiser, we believe that it also means being bolder and more dynamic in our decision making and demanding more from life.
We are for the vibrant, thrill-seeking, healthy, young-minded, future-focused, on-the-pulse, passionate, fun-loving, who have that you-bet-your-ass-I-can-do attitude who want to be a part of it. With information and insight on careers, finance, legal and lifestyle inspiration for the affluent 55-plus demographic, we aim to be the most-trusted authority and the go-to source for over-55s.
The 55/Redefined Best Partner Promise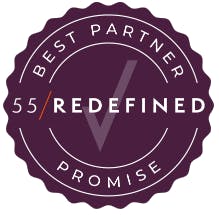 As the UK's champion for over 55s, our Partner Promise recognises products and services – such as financial, legal, insurance, education and lifestyle – that set out to make life simpler and more seamless for you, so that you can spend more time living and doing the exciting things.
We hand-pick and vet each business that is awarded the 55/Redefined Partner Promise Badge based on our own vigorous assessment benchmarks, analysis and regular evaluations. Each partner we work with is selected because they share our values, including the following:
ESG Statement
With our guiding principle to embrace the opportunities of life at 55 and beyond, we understand that a thriving natural environment and a healthy social environment are the foundations upon which people's lives are truly enriched. Without these foundations, it is not possible to fulfil 55/Redefined's mission to unlock the social and economic benefits of age inclusivity.
In fact, support of ESG-related initiatives and 55/Redefined's core social mission are intrinsically interlinked, including addressing climate change, promoting innovation, and supporting economic revitalisation through combatting ageism in employment. As we grow, we will continue to develop scalable initiatives which realise a more sustainable and fairer society for all, supporting the goal of a decarbonised society. Our partner and product decisions are, and will continue to be, based on the recognition that the protection of the global environment is essential.